'she can be' Trauma recovery program
Our 7 Week Group 'Live' Program runs every week for 1.5 hours (90 minutes) per week with a total completed program of 15 hours CPD Accredited.
Enrolling on the Group Program, takes place via our 'Virtual Classroom' by way of Zoom Video Conferencing, with a maximum of 10 women per each program.
The Live Group Program is structured to provide an interactive learning environment, without the need for disclosures of why you are on the program, so there is no need to feel anxious about joining. 
We have many women from all walks of life joining the program, some have experienced various forms of trauma, some are supporting family members with PTSD, some are joining to become trauma-informed either for their professional or general personal development.
You will receive:
7 Weeks 'Live' Interactive, Instructor-Led Learning Sessions
Complete 42 Page Self-Help Guide & Workbook
Messenger Support throughout the Program
Secure & Confidential Space to aid Recovery
Certificate of Completion 
15 Continuing Professional Development Points (Career Development)
Expert information and advice, at a fraction of the cost of most programs, not because the quality is less, but because everyone deserves to be Free from PTSD & Anxiety, without the barrier of affording it.
We also accept referrals from external organisations, including social services, family courts and national charities.
NEXT PROGRAM BEGINS IN:
The success of this program has been overwhelming, since I wrote and launched this program:
* It has been Accredited with 15 CPD Points for professional development.
* It has been outsourced and evaluated by Action for Children, and a Trainee Doctor. 
The program has been discussed and highlighted at The Queen's Nursing Institute event on Overcoming Psychological Trauma and is reaching women across the Globe!
Post Traumatic Stress Disorder (PTSD) and Anxiety is debilitating, many women are suffering with the symptoms of PTSD and many women may not have been diagnosed, suffering with a range of flashbacks, memories, panic attacks, heightened emotions, anger, fear, numbed emotions and many more. 
During this program, you will gain an in-depth understanding of:
What is Post-Traumatic Stress Disorder and Anxiety (brain science)

The Symptoms, Effects and Common Reactions 

Triggers, Safety & Avoidance Behaviours and how Behavioural Patterns have Formed Over Time

The Impact to your Daily Life and Relationships (Ace's)
You will then learn how to:
Overcome PTSD & Anxiety by learning Skills and Techniques

Unravel and Embrace Recovery with Real-Time Exposure and Tracking

Recognise Numbed Emotions and the Effects on Relationships

Deal with Anger and Other Emotional Responses to Trauma

Plan for Relapse, Resilience and Recovery
You will be supplied with:
Personalised Workbook for use during the program, and as homework to implement the learning and coping mechanisms. This will form your very own Self-Help Guide.

Certificate of Completion.
You do not need to disclose any information, the trauma happened and now you need to learn to cope with it's day to day impact.
Session 1
• What is PTSD & Common reactions to Trauma
• What causes PTSD & the physiology of PTSD
• Introduction of triggers, safety, and avoidance behaviours
• Breathing retraining
• Check-out and homework 
Session 2
• Review triggers & behaviours
• Continue to identify universal and personal triggers, safety, and avoidance behaviours 
• Introduction of SUDs scale and create a personal distress hierarchy 
• Check-out and homework
Session 3
• Review common reactions to Trauma & Personal Anxiety Hierarchy
• Introduction to 4 Coping Mechanisms: Drop Three, Self-Talk, Grounding & Safe Space
• Introduction to Real-Time Exposure 
• Check-out and homework 
Session 4
• Introduction to emotional numbing worksheet and exercises
• Practice Skills for looking at the root of the emotional numbing
• Check-out and homework
Session 5
• Introduction to anger worksheet
• Introduction to passive, aggressive and assertive concept 
• Skills for managing anger & anger analysis 
• Check-out and homework
Session 6
• Introduction to acceptance information 
• Introduction to PTSD triangle 
• Introduction to common thinking errors & recovery thinking
• Check-out and homework
Session 7
• Introduction to themes of Relapse, Recovery, and Resilience
• Planning exercise for relapse
• Recap, Review and Evaluate
• Certificate of Completion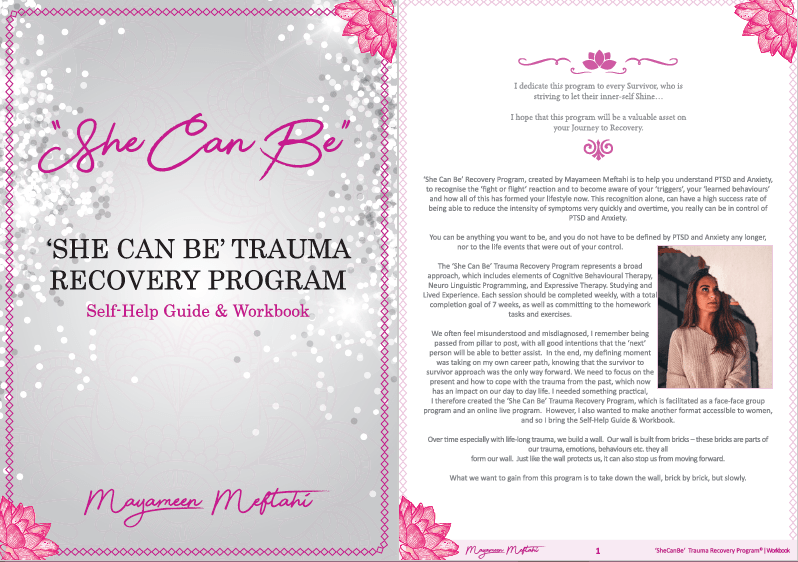 READY TO ENROL in 2 simple steps
TESTIMONIAL BY DOCTOR AMBER WHEATLEY
Complete the Registration Form:
MAKE A ONE-OFF PAYMENT:
CONCESSION FEE IS AVAILABLE FOR ANYONE WHO IS STRUGGLING FINANCIALLY TO PAY THE FULL FEE, NO INFORMATION REQUIRED, THIS IS ACCESSED AT THE DISCRETION OF THE ATTENDEE AND OFFERED SO THERE IS NO FINANCIAL BARRIER TO ACCESS THE PROGRAM.
OR SET UP AN INSTALLMENT PLAN:
Payment Terms:
Inslalment Plan Option will incur a Small Fee. There is a No Refund Policy, the fee is transferable to another program date.
Invoices can be issued for Professionals joining the program, if payment is being made via an Organisation.Upon Enrollment, you will receive a confirmation email with instructions and access to our Live Classroom.
This is an effective self-help program, that has successfully helped women lead a better quality of life.  If you are currently being supported by an organisation and the cost of the program is a barrier, please speak to your support worker to see if they can assist with the fee.
"To be able to access this programme has been life enhancing for me.  To be able to join the programme, without any criteria (officially) and without talking about the traumas was so helpful to begin with.  I felt accepted & enjoyed being a part of the group.  Maya has taught me a lot, her passion & knowledge is an inspiration, and all of her hard work.  The women were very inspirational too."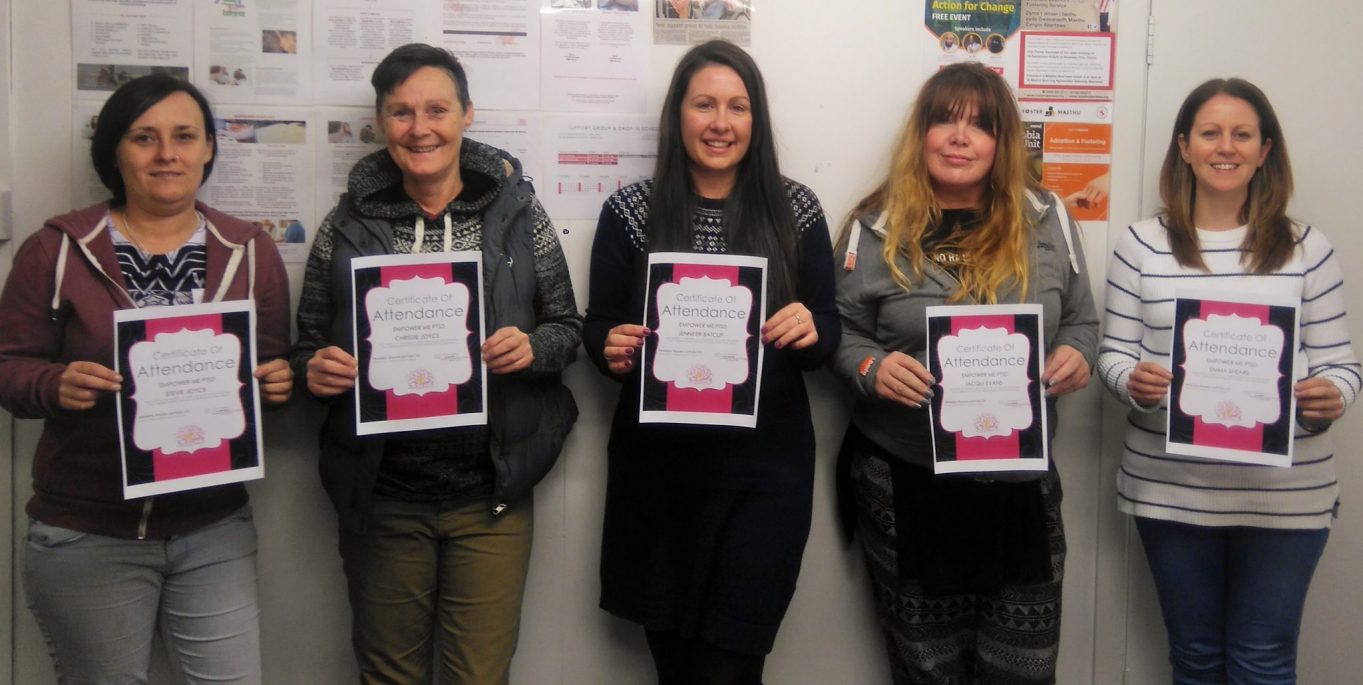 "I really feel I am now equipped with coping mechanisms for my anxiety"
"Excellent informative program. Extremely useful info and tips on how to cope. Would highly recommend"
"Loved the course, brought a lot of stuff up that I didn't know I was carrying.  This did make me feel anxious and panicky but it gave me the tools to deal with it and I now feel equipped to deal with things as they arise.  Thank you!!"
"Programme was very well delivered, Maya is a very good group leader and delivers the course in an amazing fashion.  Would and have recommended this group to others :)"
"This has had a life changing effect.  It has given me an understanding of PTSD and how to manage my behaviour to deal with daily issues better.  Would highly recommend this course."
"As an Educator, I have learned so much from this course. This will help me in my work.  The course has been so informative"
"This program is excellent, it was delivered at a high level.  At no point did I feel unhappy to express my views or opinions.  I have learnt a lot about myself"
"I had no clear understanding of PTSD, yet by being on this course, I have developed a deeper understanding of how this has affected me"
"This program has given my the skills to manage my PTSD, and to understand it without judgement. It's made a huge difference to my quality of life"
We strongly believe every woman should have access to our Recovery Program, it's success has been proven via its Testimonials.  Unfortunately, we are not funded, but any Funding received we will offer these places to women in crisis (by referral).
With Thanks to the People's Postcode Lottery for awarding £2,000 so we could run a Young Mum's Program. (January – February 2019)
If you would like to sponsor a space on the program for a Survivor, please go to our Donate page – Thank you to everyone who has provided a sponsorship.
CRISIS CARE – Sponsorship scheme
For every paid enrolled member to the Online Group Program, 10% is given to our Sponsorship Scheme, as part of our Social Impact, to provide free places. Any donations we receive, are also used to provide Crisis Care to women who can not afford to access our Recovery Program, or who are not entitled to free Counselling.
Each application is assessed on a case – case basis, we will then offer 2 FREE places for every program.
apply for a sponsored space:
Please note: we have a current waiting list, so every time we begin a new program, we will select the next in line on our waiting list.  It may be, that you do not receive an immediate place, but we will reply to every application and keep you updated with progress. Places are limited to our current donations and funding available. 
This program has been uniquely written by Mayameen Meftahi, who holds the copyright. Evolving from her lived experience and working with many women during her professional career.
Mayameen is a registered Psychotherapist Practitioner and NLP Life Skills Coach and was determined to create a practical program that was going to make a difference to those who had suffered from trauma and anxiety.  
This is an intensive, effective recovery program for understanding Post-Traumatic Stress Disorder and Anxiety which has been proved via our Testimonials and Evaluations.

The She Can Be Trauma Recovery Program represents a broad approach, combining Cognitive Behavioural Therapy, Dialectical Behavior Therapy, Neuro Linguistic Programming, and Expressive Therapy.