SUCCESSFUL • LIFE-CHANGING • PROVEN EFFECTIVE • PSYCHOEDUCATION INTERVENTION FOR WOMEN, MEN & TEENS
Welcome
This 7 Week Trauma Recovery Programme™ is a Psychoeducational Intervention for people diagnosed or suffering with symptoms of Post-Traumatic Stress Disorder (PTSD), to acquire skills to deal with the impact of Trauma, regulate emotions, understand trauma responses, the PTSD triangle and ultimately aid healing from Trauma, encompassing a broad range of activities that combine education, therapy and supportive interventions.
This means, you do not have to discuss any Traumatic events, in order to begin the Healing Journey!
With a process to be followed through from the beginning, middle to end, you will embark on a 7 week 'course' of practical, informational trauma-focused modules, without the need of ongoing treatment.
what you will receive over 7 Weeks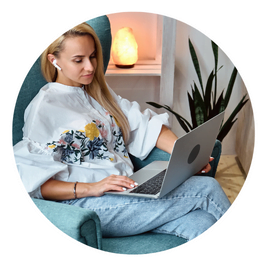 Live Sessions
Instructor-Led, Interactive Live Sessions via Zoom, whereby we work together through each Module of the programme.
Accountabiity
Throughout the programme, there will be tasks to complete in order to keep accountable to your healing journey.
Workbook/Self-Help Guide
You will receive a full Workbook to be used throughout sessions as your very own Self-Help Guide that you can return to, time and time again. 
Peer Support
Group support not only during the Live Session via Zoom, but also in our peer support WhatsApp Group. 
WEEKLY SESION FOCUS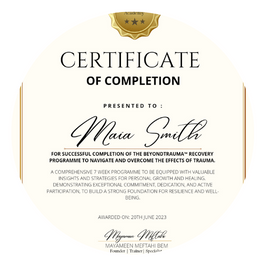 Accredited Certificate of Completion 
To honour and recognise the Journey of rising BeyondTrauma™ and creating a life that exceeds all expectations, you will upon completion of the programme receive your Certificate of Completion attached with 15 Continuing Professional Development points, as part of the programme being nationally Accredited by the CPD Group.
Achievements
➢ Nationally Accredited by CPD Group Awarding 15 CPD Points for Professional Development to become 'Trauma-Informed'
➢ Outsourced & evaluated by Action for Children, and Doctor Amber Wheatley.
➢ Lectured at The Queen's Nursing Institute event on Overcoming Psychological Trauma!
➢ Funding awarded from the Peoples Postcode Lottery for a free program for Young Women
➢ Procurement by Swansea City Council for delivery to a Service User.
➢ Facilitated as an Intervention Mentoring Program at Peak Education, an Independent Provision for SEMH Students
➢ Finalist in The National Awards for Pastoral Care in Education 2021 organised by NAPCE for: Pastoral Development of the Year
➢ Team of Fully Trained & Certified Facilitators to deliver the programme
➢ Continuing to reach Hundreds of people across the Globe, to help Transform their Lives after Trauma!
Meet my expert facilitation team
Testimonials
"Loved the course, brought a lot of stuff up that I didn't know I was carrying.  This did make me feel anxious and panicky but it gave me the tools to deal with it and I now feel equipped to deal with things as they arise.  Thank you!!"
"To be able to access this programme has been life enhancing for me.  To be able to join the programme, without any criteria (officially) and without talking about the traumas was so helpful to begin with.  I felt accepted & enjoyed being a part of the group.  Maya has taught me a lot, her passion & knowledge is an inspiration, and all of her hard work.  The women were very inspirational too."
"This has had a life changing effect.  It has given me an understanding of PTSD and how to manage my behaviour to deal with daily issues better.  Would highly recommend this course."
"As an Educator, I have learned so much from this course. This will help me in my work.  The course has been so informative"
"Programme was very well delivered, Maya is a very good group leader and delivers the course in an amazing fashion.  Would and have recommended this group to others :)"
This programme was amazing for me, 3 mental health diagnosis. Physically ill with symptoms no one could control. Since I've done this course I am like a different person. You will hear Mayameen say it is not a cure, it's ongoing work. I disagree, do the work and it's a cure. Honestly, it works!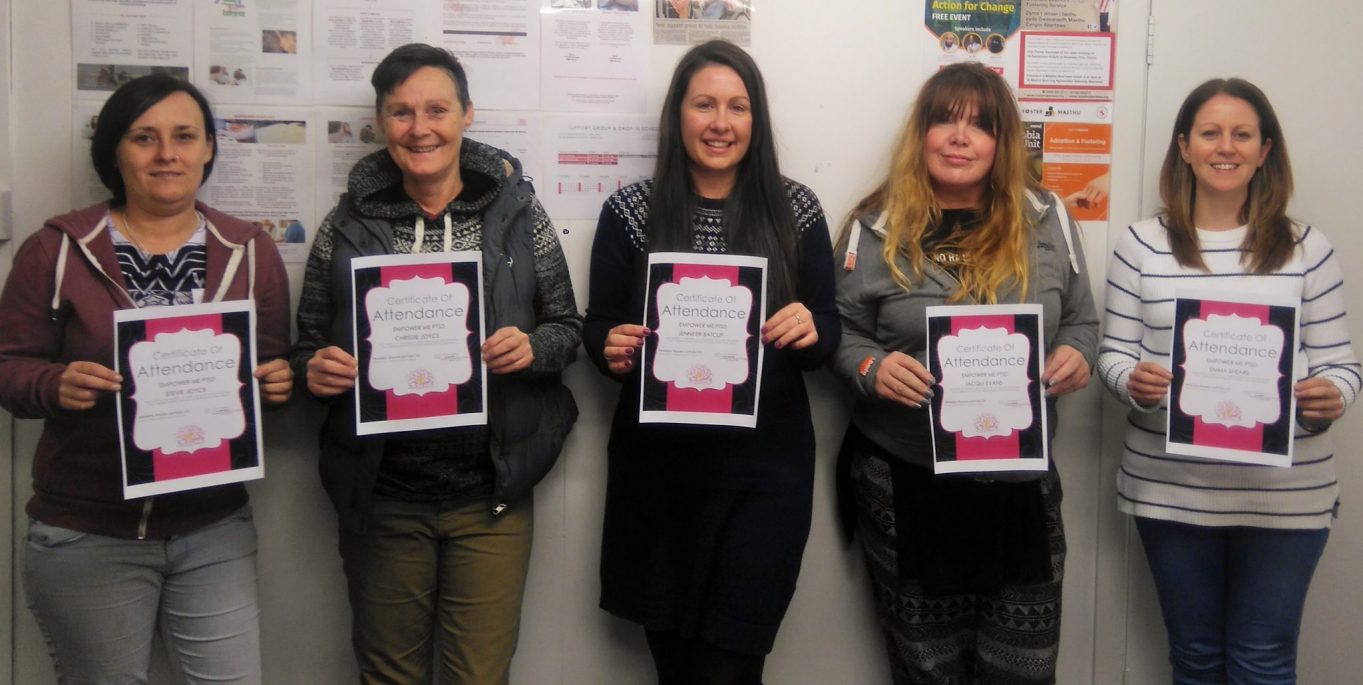 ACCREDITATION:
The program was developed by Mayameen Meftahi BEM and has been Accredited, with 15 Continuing Professional Development Points attached, to recognize that upon completion you are 'Trauma-Informed'.
Everyone who successfully completes the Trauma Recovery Program, either in the Group format, Self-Study format or 1:1, will receive a Certificate of Completion with the 15 Awarded points (evidence of your completed worksheets/workbook will be required to be awarded the CPD Points).
Mayameen developed this program and overtime it's success has been proven, the program was commissioned by Action for Children, Mayameen has lectured her program at The Queens Nursing Institute, it has been facilitated for numerous professionals, facilitation at HOPE Bereavement Support, as well as Mayameen delivering her program as an Intervention Program at Peak Education, an Independent Provision for students with Social, Emotional and Mental Health difficulties.
There is nothing better than being acknowledged of your Journey!
become a facilitator and deliver this programme to your clients
TO THE People's Postcode Lottery for awarding £2,000 for Young Mum's to ACcess the Program for Free.
(January – February 2019)
payment terms:
There is a No Refund Policy, fee is transferable to another program date.
Invoices can be issued for Professionals/Organisations joining the program. Upon Enrollment, you will receive a confirmation email with instructions and access to our Live Classroom.
This is an effective self-help program, that has successfully helped women lead a better quality of life.  If you are currently being supported by an organisation and the cost of the program is a barrier, please speak to your support worker to see if they can assist with the fee.
Written & Facilitated by Mayameen Meftahi (BEM)©, whom holds the copyright.

A Queens Honours, Multi Award-Winning Specialist in Trauma. Qualified Psychotherapist Practitioner, NLP Coach & Independent Professional Advocate. 

A Solution-Focused, Intense, Practical Program that combines a broad approach of Modalities, that Mayameen believes are effective for PTSD/C-PTSD, having used them as Lived Experienced to transform her own life.

These include: Cognitive Behavioral Therapy (CBT), Dialectical Behavior Therapy (DBT), Neuro Linguistic Programming (NLP), and Expressive Therapy.