Mayameen Meftahi (MASC P.Th & NLP) is extremely proud to be a Queens Honour British Empire Medal (BEM), Multi Award-Winning Trauma Specialist & Sexual Violence Expert by Lived Experience, Independent Advocate, Fitness Instructor & TEDx Speaker.  
Designing and delivering specialist services for women overcoming Psychological Trauma and for Professionals. 
Working in the field of Sexual Violence and Psychological Trauma, since 2011. 
In 2018, Mayameen hit the media by waiving her right to lifelong Anonymity as a Child Sexual Abuse Survivor, becoming an International Public Figure. The story broke in That's Life Magazine, and within a matter of days, Mayameen had received an out pour of support, with hundreds of Survivors reaching out to share their story, whilst a short video made by Mayameen that morning, shared on Facebook had over 15k views.
And Paving the way to Law Change
Breaking her Anonymity was not just about reclaiming her childhood and power, it was also about making an impact in the field of Child Sexual Abuse.
Successfully Campaigning against Injustice by way of Petitioning, Advocating and launching Movements.
Mayameen in particular, has left a Legacy in Wales as her Child House Petition created a change in Bill and her desire for the first Child Refuge in the UK to be passed in motion at the Senedd, still in discussions until this day. 
Originally born in Essex, Mayameen had an array of career paths, including her main career as a Legal Secretary in a Top Criminal Law Firm in Essex, JSPS Solictiors.
Travelling a passion, Mayameen settled for a number of years in Tunisia with her husband, working as an English Teacher.
In 2009, Mayameen suffered a birth trauma, enduring paralysis and requiring reconstructive surgery a year later, due to medical negligence and obstetric violence. Mayameen was compensated for this and the surgeon was removed from practicing, however this was the onset of Post Traumatic Stress Disorder (PTSD).
"I didn't feel like a woman anymore, I felt mutilated"
In 2011, Mayameen began her Journey to working within Mental Health, working with women affected by Sexual Violence, in particular with women affected by Female Genital Mutilation, being able to resonate with the impact of such violation. 
Qualifying as a Psychotherapist and NLP Coach, her outstanding knowledge of overcoming Psychological Trauma led her to pioneer her signature Trauma Recovery Program, based upon the PTSD Psychology of War Veterans in America.
"I had to find a way to deal with my trauma and to make my wounds worth it"
In 2012, Mayameens childhood trauma was triggered by the sentencing of ger father to prison, after being arrested for his Sexual Abuse, Rape and Use of Drugs on her throughout her entire childhood and teens. 
This spiralled Mayameens career and advocacy for victims of Sexual Violence, including her greatest moment, as an Advocate for an FGM Victim who was pregnant and had fled forced Marriage in Gambia, attending her labour and being participant to what can happen with a survivor-survivor led approach. 
As a Public Speaker, Mayameen has embraced many an opportunity with taking the stage as a TEDX Speaker in 2016, whereby she talked about her own birth trauma and that of Fatima's story above. 
Despite all of these acheivements, the true reason to Mayameens passion was still secret to the outside world…
In 2018, it was time to break her own silence and make an impact in the field of Child Sexual Abuse…
Her Story Began, as she Suffered, Survived and Thrived…
Shaming the silence, Mayameen decided to waive her Anonymity, spiralled by the upcoming release of her father the first week of May 2018, after he was Sentenced to a 10 year imprisonment, yet only serving 6 1/2 years of his sentence, he was due to be released.
With the onset of what was about to happen, in March 2018 Mayameen had an instinct to google his name… the headline appearing: UPDATE: Chelmsford prisoner found on fire died by accident…
In 2011, whilst away on holiday, Mayameen received the most life changing telephone call from Essex Police, that her father 'had been arrested, you are now safe'…
20+ years on into her life, Mayameen screamed as she collapsed to the floor 'why now, why now, why are you trying to destroy my life, it's too late'.
Confused, shocked, terrified that her father would kill himself! She returned from holiday, back to the UK, to unveil an entrenched sexual abuse and rape history.
Never, could Mayameen have prepared herself for what she was about to learn… a deep sickening history of power, from the man named her father.
Months and months of the family home being turned upside down, more evidence just pouring in from all area, it was something so horrifying to go through and to learn new of events in Mayameens childhood, that she had no recognition and knowledge of… 
Wondering when this black turmoil of never ending pain was going to end…
At the Hearing on the 8th March 2012 at Basildon Crown Court,
Mr Colby pleaded 'Guilty' to:
Incest x 4
Indecent Assault on a Female x 8
Committing Gross Indency with a Child
Making Indecent Photographs or Pseudo-Photographs of a Child
Sentenced as follows:
Total Sentence of 10 years imprisonment less 224 days on remand
To sign the Sex Offenders Register Indefinitely
Forfeiture of Equipment and Forfeiture and Destruction of Drugs
Despite, Mayameen being in attendance at the sentencing hearing from her own free will, she was not needed in the entire case, as the harrowing evidence was stacked up high, in what was one of the most monumental cases for evidence in history of Child Sexual Abuse.
As the Judge spoke of Mayameens amazing strength, of her innocence as a child, evilly ripped away by the one person who should have protected her, it was clear that she was lucky to be alive. 
Begrudgingly, sentencing Mr Colby on what was the maximum sentence for historical child abuse at the time.
Evidence in this case consisted of:
60+ hours of Video Footage
Photographs
CCTV Equipment with cameras installed in the bedroom light bulb fittings
Transmitters placed in plug sockets
A harrowing black Diary
And plenty more evidence that was used, to convict Mr Colby, ironically with his very own doing.
Had I ever had one tiny inkling that I could have been believed, I would have saved myself. What I endured, was one of the worst hell's of my life, and it literally consumed my every single day for as long as a I can remember, I was never given a chance to be a child, or a teenager.  I was a lamb to slaughter, day in and day out.  I was told, that I was lucky to be alive due to the extreme abuse   Let alone, in 2011 finding out by the police day by day, as more and more evidence came to light, that I could have been saved.

In the words of Abbey, my amazing officer in the case, whom I will always hold much love and respect, 'if you read it in a book, it would seem to far fetched, only it's real, and you lived it'
One in 20 UK children have been sexually abused, and 90% of this abuse occurs by someone the victim knows-yet a third of the abused don't tell anyone.
Natasha, Emily and Mayameen give poignant first-hand accounts of their childhoods and how they have created new lives for themselves following years of being abused by their dads.
It Breaks in That's Life Magazine…
On the 27th September 2018 That's Life Magazine broke the story.
Mayameen that morning also made a short video on Facebook and never expected to reach 13,000 views and hundreds of comments in solidarity.
ITV WALES Interview LAUNCHES THE CAMPAIGN…
Abuse survivor calls for Child Houses for children suffering sexual abuse in Wales
Read the full article here
New! Magazine Feature the story…
"Survivors should not be forced to live in fear. I hope my story will inspire others victims to report their abusers. My dad may have robbed me of my childhood, but I will not let his actions dictate the rest of my life"
Read the Full New! Magazine Story Here
Wales online interview, that escalated national awareness…
The police called me when I was on holiday to tell me they'd found videos of my dad raping me as a child…
The Sun: fabulous article
SECRET TORMENT
My dad filmed himself raping me from the age of FOUR, drugged my hot chocolate and even had a secret sex shrine to me in the attic…
BBC Wales & BBC NEWS INTERVIEW…
Abuse survivor wants 'child houses' in Wales.
Maya Meftahi suffered years of abuse as a child and now wants to create safe places for young victims to turn to.
Mayameen along her intriguing and inspiring Journey, has achieved many milestones and recognition of her services for Child Victim by the Queen was humbling.
No one heard her silent cries, but they will hear her pained voice as she raises the platform for Survivors.  And yours can be heard too!
Her Legacy in Wales, with her campaigning, she hopes will live on, and you can read more here.
You can also see more of Mayameen's Public Speaker milestones here.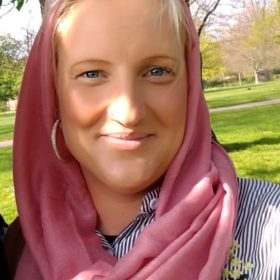 Mayameen Meftahi is Self-Employed, running this Business a Certified Social Enterprise, with Social Enterprise UK. 
A social business, giving back to victims of Sexual Violence with access to her Group Recovery Program and giving her time voluntary to provide support to hundreds of women in her free Facebook Group.