self-study 'she can be' trauma recovery program
Aimed at those who may not be able to access our successful 7 Week Group 'Live' Program, this is a self-study version of the program, allowing you to study and heal in your own time, but with the crucial information and coping mechanisms to do so. 
You will receive:
7 Instructor-Led Videos
Interactive Questions at the end of each Video
Session Handouts to form your 42 Page Self-Help Guide/Workbook
Secure & Confidential Space to aid Recovery
Email Support throughout the Program
Certificate of Completion 
15 Continuing Professional Development Points (Career Development)
Option to add 121 Sessions with a Multi Award-Winning Psychotherapist and Lived Experienced Specialist in Trauma –  Mayameen Meftahi
Written and Facilitated by Mayameen Meftahi, coming from a place of Lived Experience of Trauma and Healing.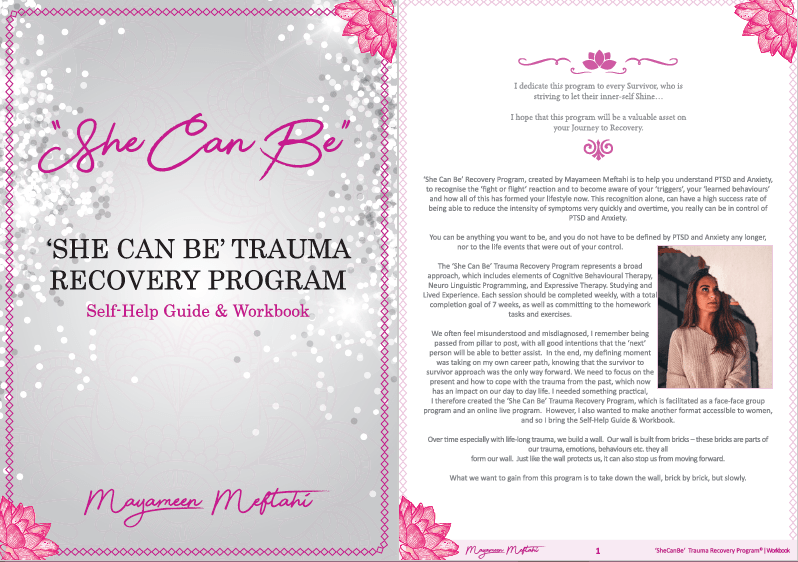 During this program, you will gain an in-depth understanding of:
What is Post-Traumatic Stress Disorder and Anxiety (brain science)

The Symptoms, Effects and Common Reactions

Triggers, Safety & Avoidance Behaviours and how Behavioural Patterns have Formed Over Time

The Impact to your Daily Life and Relationships (Ace's)
You will then learn how to:
Overcome PTSD & Anxiety by learning Skills and Techniques

Unravel and Embrace Recovery with Real-Time Exposure and Tracking

Recognise Numbed Emotions and the Effects on Relationships

Deal with Anger and Other Emotional Responses to Trauma

Plan for Relapse, Resilience and Recovery
You will get access to:
7 Instructor-Led Videos

Session Handouts to be completed during your self-study, to implement the learning and coping mechanisms. This will form your very own Self-Help Guide.

Certificate of Completion.
You will gain instant access to your video sessions and materials, so you can begin the program immediately and then return to study and complete the program in your own time.
Are you ready to be the best version of you!
YES I AM READY!
Then choose the best package for you and let the Healing Journey begin…