Mayameen Meftahi (BEM, Masc P.Th) is a Multi Award-Winning Specialist in Psychological Trauma, having been awarded a British Empire Medal for the Queens Birthday Honours 2020 for her services to Child Victims.
Mayameen is a qualified Psychotherapist, NLP Coach and Independent Professional Advocate.
Generally recognised as having specialist knowledge/expertise with regard to Post Traumatic Stress Disorder and in particular those who suffer with the symptoms of PTSD, due to Sexual Violence.
Mayameen's lived experience has paved the way for her to use this, to not only educate professionals, but to successfully work therapeutically with victims of Child Sexual Abuse.
With many appearances on TV, Radio and Conferences, you can view some of Mayameens previous attendances here, however her main highlights are taking the TEDx Stage on Female Genital Mutilation, a Panel Member at Neath Port Talbot Hospital on ACE's and Lecturing at the Queens Nursing Institute on Overcoming Psychological Trauma.
Mayameen is passionate about providing Professionals with Lived Experience Expertise.
Child Sexual Abuse
Female Genital Mutilation
Trauma Informed Practices
7 Week Group PTSD Recovery Program
Fitness Classes for Expressive Therapy
Independent Advocacy
sAMPLES OF pREVIOUS COLlaBORATIONS
Delivering 7 Weeks PTSD Recovery Program to Service Users at Action for Children.
Delivering 7 Weeks PTSD Recovery Program to service users referred from Health Visitors for the Young Mums Project funded by Peoples Postcode Lottery.
Delivering 12 Weeks of Rebounding Classes & Resilience to Service Users at Keeping Our Girls Safe (KOGS) for their Youth Project.
Delivering 7 Week Rebounding Classes & Focus Group for service users at Positive Steps for their Young Offenders Project.
Delivering 6 Weeks of Trauma-Sensitive Yoga for services users at BAME Connect.
Delivering 3 Weeks Rebounding Classes for their BME Women Project at BAME Connect.
Delivering 7 Sessions of 1:1 Therapeutic Support to a Victim of Violence funded by Swansea City Council.
Delivering Independent Advocacy for a Young Victim of CSA during Social Services involvement, attending Child Protection Meetings, Court Attendances and Contact Arrangements.
Delivering FGM Training at Action for Children.
Delivering FGM Training at Ferrers Academy.
ACCREDITED INSTRUCTOR-LED & ONLINE TRAINING
Video Training providing easy access to training, anywhere, anytime.
On-Site Training for your entire team or department, delivered at your location.
Bespoke training packages and conference addresses are available to fit any amount of time, from 45 minutes to entire training courses.
Please contact me to discuss your specific requirements.
Cost: £340.00 per 1/2 day training (Online via Zoom)

Cost: £540.00 per 1/2 training (On-site inc travel expenses)
if you would like to discuss on-site training, please send an email to: info@mayameenmeftahi.com
*Please Note: Training is open to all genders*
"Great and informative course, well delivered and presented by someone with passion and extensive knowledge on the subject"
"Maya's training is a must for everyone to help identify and protect those at risk from FGM and those suffering post FGM"
"I would recommend this presentation to anyone and everyone who works with women"
PTSD & ANXIETY TRAUMA RECOVERY PROGRAM
Delivering my Signature 7 Week Post Traumatic Stress Disorder and Anxiety Recovery Program for other organisations and reaching more women, is one of my greatest passions.
You may have already seen the success this program has had, and it can be delivered in your organisation, to help your own service users overcome psychological trauma.
The 7 Week Agenda consists of:
Session 1
What is the PTSD Recovery Program?

What is PTSD and Common reactions to Trauma

What causes PTSD and the physiology of PTSD

Introduction of triggers, safety, and avoidance behaviours

Breathing retraining

Check-out and homework
Session 2
Review triggers, safety behaviours, and avoidance behaviours

Continue to identify universal and personal triggers, safety, and avoidance behaviours

Introduction of SUDs scale and create a personal distress hierarchy

Check-out and homework
Session 3
Review common reactions to Trauma

Introduction to 4 Coping Mechanisms, Drop Three, Self-Talk, Grounding & Safe Space

Introduction to Real-Time Exposure

Check-out and homework
Session 4
Introduction to emotional numbing worksheet and exercises

Practice Skills

Check-out and homework
Session 5
Introduction to anger worksheet

Introduction to passive, aggressive and assertive concept

Skills for managing anger & anger analysis

Check-out and homework
Session 6
Introduction to acceptance information

Introduction to PTSD triangle

Introduction to common thinking errors & recovery thinking

Check-out and homework
Session 7
Introduction to themes of relapse, recovery, and resiliency

Recap, Review and Evaluate

Certificate of Attendance
Attending your organisation, every week to deliver the full program, which will also include Workbooks for each participant.
The Workbooks are completed week-by-week, as we work through the information, exercises and allow time for reflection.
As this is an Accredited Program – 15 hours of CPD Points, Certificates of Completion are given to each participant upon completion, with their recognition of becoming 'Trauma-Informed'.
Delivering and facilitating, in an interactive way that engages each participant to aid their recovery and to understand adverse childhood effects of their behaviours.
From Post Traumatic Disorder to Post Traumatic Growth!
Program facilitation costs
Facilitation of a total 15 hours @ 1.5 hours per week = £1,275
Workbook per person = £9.99 @ 10 participants = £99.90
Programs are capped to no more than 10 participants, to allow engagement and effective time management.
Total cost for Delivering and Facilitating:
£1,374.90
Any further expenditure, such as a end of Completion Celebration for the Group, is subject to the organisations discretion and budget/funding application.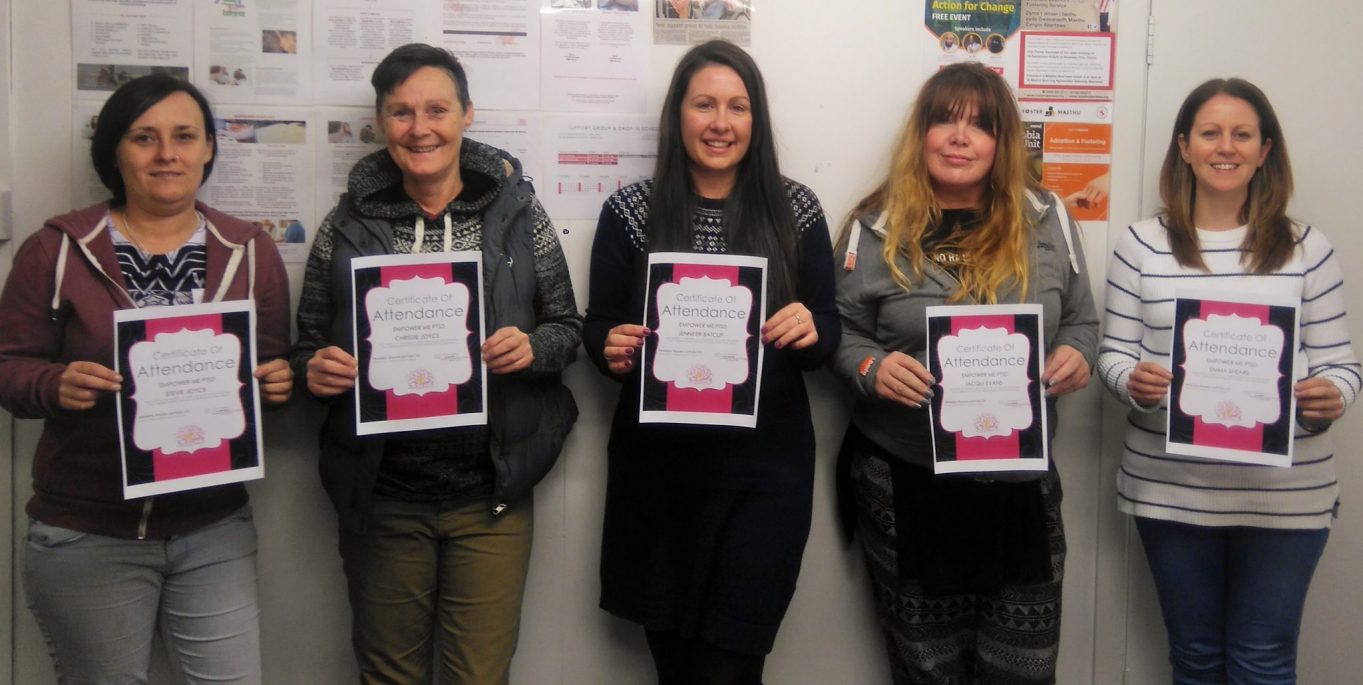 INDEPENDENT ADVOCACY/CONSULTANCY
Mayameen's expertise in the field of Psychological Trauma and Sexual Violence, has been sought from many Local Authorities/Organisations. 
Consultancy Rate:
From £60 per hour